Foxtails are Everywhere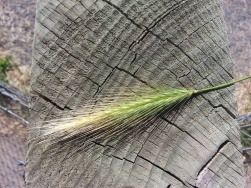 Foxtails are small barbed grass seeds that come from one of several species of grass. They are also called "spear grass" due to their shape, which helps them lodge in the ground. Unfortunately, this shape also makes them dangerous for dogs, because they can become lodged under the skin and will actually migrate into the dog's body, causing pain and infection. Even worse, they may be inhaled, in which case they can cause all sorts of respiratory problems, up to and including death.
Foxtail grasses are found all over the West Coast, but are particularly prevalent in Eugene and the southern Willamette Valley. Small patches of foxtails are everywhere during the spring and summer. We have seen foxtails in vacant lots, in dog parks, and even in the grassy area behind our clinic! (We try to keep those cleaned up.)
Avoiding and Removing Foxtails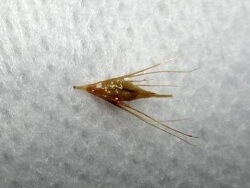 It is pretty much impossible to avoid foxtails during the warm months, which is why it is important to know what to do about them. We recommend that you check your dog's feet and legs for foxtails after each trip outside, and remove any you find. They are especially hard to find on light-colored dogs, and can be hard to remove from curly-coated breeds. If your dog has light or curly fur, we recommend that you regularly shave his feet to reduce the chance of picking up foxtails.
If your dog is constantly licking his feet or some other spot on the body, or is shaking his head or digging at his ears, this could indicate the presence of a foxtail. Unfortunately licking and scratching can drive the seed even deeper into the skin, so this should be dealt with quickly.
If you find a foxtail that has started to penetrate the skin, you may be able to remove it with tweezers; however, be careful that you get the whole seed. If it breaks off inside the skin an abscess could form, which will require treatment. And if the seed gets completely under the skin, this is where things get nasty – because that barbed shape prevents the seed from moving in any direction but "in".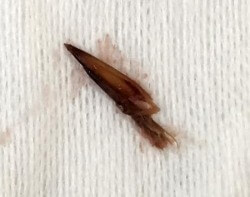 Foxtails that are under the skin must be surgically removed. This should be done as soon as possible, because not only will the foxtail continue to migrate inward, it will also begin to break down into smaller pieces, which are hard to find and remove. In some cases multiple surgeries may be necessary to remove all the pieces.